So I'm plugging along on the craft room... I got the "cloffice" (Closet/office) tidied up last night and installed some under cabinet lighting in there. I think that'll be great for late evenings of surfing the web or crafting etc without having the overhead light on or causing too much disturbance to the rest of the house....
Amazing what one simple
Ikea fixture
can do! Best part, it's LED so it should last a while and not get hot to the touch.
This is with the overhead lighting off.
This is with the overhead light on, and the task lighting.
So this little area is coming together, the other part of the room is causing my dilemma. Basically the room is only 10x10.. I have a desk in there that I may or may not keep.. Depending on storage solutions.
Again, handy dandy Pinterest has come to the rescue--kinda. I've found a few desks that give ample work space by using a couple Expedit Ikea shelving units... like this one:
I think I still want to be able to sit at the main work station... So maybe do a combo of one 8 cube Expedit unit and one 4 cube unit keeping it able to still have a chair. Something like this: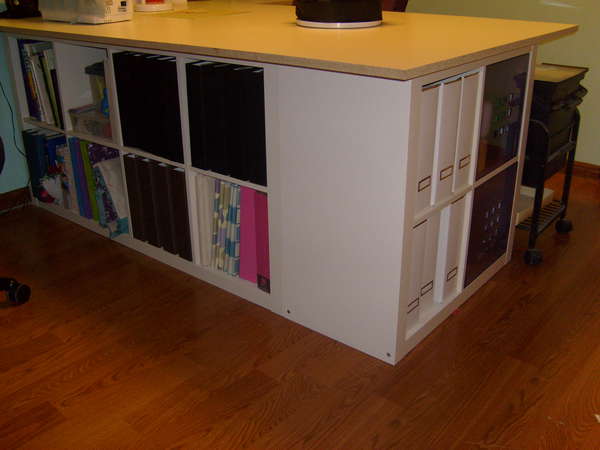 I have to confirm measurements though. I'm afraid to take up ALL my floor space. Having 2 doors in the room also make it hard to plan around...I need some storage drawers.. I don't want all my supplies out in the open and visible... The problem with standard base cabinets is they are 24" deep.. Again I'm concerned with eating all my floor space.. Tape came along and I began to tape out a proposed idea for my trouble spot.
Yesterday I posted about my two walls that are up in the air.
On the left is the picture posted yesterday. I got out my tape late last night and began taping an outline on the floor. The distance from the baseboard towards the camera is 15" and from the right of the picture to the left is 24".. Creates an awkward possibly wasted space corner.. Humph. =(
Also on that wall I taped out the spot for the slat wall storage unit--- I picked it up a few months ago from the Habitat ReStore.. It's 34"x46" inches.

The other wall is like this. Again I took tape and taped out a rough layout on the floor. This time showing 2, 24" base cabinets with the space in between able to have a chair for the workstation.
Up above this whole area, a series of open floating shelves. Maybe not the most pratical. Ugh, I wish I had an organization bone in my body! Organizing is NOT my forte!
Any thoughts?
I'd really love some narrow depth base cabinets.. but I have no idea where to find them! Unless maybe they really are upper cabinets converted to base cabinets.. It doesn't solve my wanting of drawers tho! The picture on the right seems to have some drawers.. and bygollygoshdarnit, I want them!
My closest Ikea is 4 hours away, so Ikea at this point isn't even an option! Argh! I want my space done, and functional and to be able to FINALLY host a Stampin' Up! party for my friend
Trish.
All the more reason storage and multiple workspaces are so important. What's the point in crafting, if you can't have a few girlfriends join you?!
Tomorrow I'll be swinging by the ReStore to check out what they have.. Maybe something will work.
I am open to any sugegstions, input, pinterest, shopping leads etc..